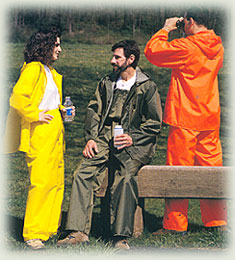 Solid Colored Rain Gear Storage Bag to Keep Your Stuff Conveniently Tucked Away
Tired of rummaging through your bag to find your rain gear during unexpected downpours? Once you have your rain suit and are ready to take on the wilderness in all conditions, you'll need a portable, matching waterproof rain suit storage bag. Say goodbye to the hassle of wet clothing with our solid-colored rain gear storage bag. This stylish and functional storage solution will keep your rain essentials organized and easily accessible so you're always prepared for those sudden showers.
Our solid-colored rain gear storage bag offers plenty of room to store your rain suit for easy access anytime. Keep your rain suit storage bag in your car or truck, or carry it anywhere and everywhere, just in case you need your durable lightweight rain suit or jacket at any time.
Don't get caught in the rain without the lightweight comfort and protection of your rain suit. Order your solid color storage bag today to make your rain suit and other accessories portable and convenient to reach.
Three colors available, including:
Olive Drab

Yellow

Fluorescent Orange
Key Features of Our Durable and Convenient Storage Bag
The rain gear storage bag is your perfect companion for staying organized and prepared during unpredictable weather. This innovative storage solution is designed to make your life easier by keeping all your rain gear essentials neatly tucked away and readily accessible when needed. With a focus on functionality, convenience, and style, let's explore the key features that make this rain gear storage bag an indispensable addition to your rain gear prep routine!
Durable Material: Made from high-quality, waterproof fabric to ensure your rain gear stays dry and protected.

Compact Design: Lightweight and foldable, this storage bag can easily fit into your backpack, purse, or car glove compartment without taking up much space.

Versatile Storage: Perfect for storing not just rain gear but also other essentials like umbrellas, ponchos, raincoats, and waterproof shoes.

Stylish Colors: Available in various solid colors to suit your style and make a statement even on the gloomiest days.
Opting for our rain gear storage bag gives you a significant advantage over other non-waterproof alternatives available on the market. We designed this storage bag to protect your rain gear and keep it dry, ensuring you're always prepared for unexpected showers. While other bags may claim to be water-resistant, they often fall short when put to the test, leaving your rain gear damp and ineffective. By choosing our truly waterproof rain gear storage bag, you're investing in a reliable and durable solution that will keep your essentials safe, dry, and ready to use.
Why Do You Need A Solid Colored Rain Gear Storage Bag?
A rain gear storage bag can be a game-changer for those who are caught in unexpected downpours. A dedicated and organized space for your rain gear ensures you're always prepared to face the elements without any hassle. No more rummaging through your bag or struggling to find your rain suit when you need it the most. With a highly visible, waterproof rain gear storage bag, you'll save time and stay dry, making your outdoor adventures more enjoyable and stress-free.
Additionally, a rain gear storage bag helps protect your belongings from getting wet or damaged by keeping your rain gear separate from other items in your bag. This feature is handy for those who carry electronic devices, important documents, or other moisture-sensitive items. By investing in a rain gear storage bag, you're not only ensuring your comfort during rainy weather but also taking care of your valuable possessions. It's a practical and thoughtful solution for staying organized and ready for whatever Mother Nature has in store. Don't let unexpected rain ruin your day – order your solid-colored rain gear storage bag today and experience the convenience and style it brings daily.
The Kool Dri® Guarantee
Kool Dri® guarantees each garment to be free from defects in materials and craftsmanship for five years from the date of purchase. However, this warranty does not cover damages resulting from accidents or neglect, so be sure to handle your Kool Dri® rain gear carefully! If you are not entirely satisfied with the comfort and durability of your Kool Dri® garment after trying it out, return it to Kool Dri® along with a detailed explanation, and we will happily exchange or refund your purchase.