Rainy Day? That's No Problem for Our All-Weather Motorcycle Rain Suit
You're out for a ride, enjoying the sunrise and fresh air, when suddenly, gray clouds roll in, and you hear that tell-tale crackle of thunder in the distance. Unfortunately, you'll have to cut your ride short, but that's not the only bad part. You've forgotten your rain jacket, and you know the rain will soak you to the bone before you get home. If only you had one of those all-weather-combo Kool Dri® motorcycle rain suits.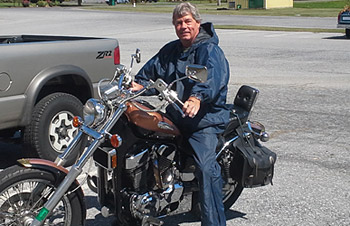 From top to bottom, the design of the Kool Dri® motorcycle rain suit offers protection and style. Unlike other Kool Dri® products lined with different materials, this suit is lined with lightweight nylon. The jacket features pockets for dry storage, while the elastic cuffs adjust to a perfect fit. A roomy hood adjusts to the wearer's preference with a durable drawstring.
If you purchase matching waist pants, you will discover they pull on and off easily with an elastic waist. The tapered legs close against the elements with a plastic zipper closure. Also available are bib pants, with elastic straps to pull over the shoulders. Either of these garments combines with the jacket to look great and offer protection for any outdoor activity.
Our Motorcycle Rain Suit Options
Many enjoy the past time of motorcycling for the feeling of freedom. Enjoying the breeze, staring out at an open road full of possibilities and experiences yet to be had, is one of the most freeing feelings in the world. But you need the proper attire to keep yourself safe and dry while you enjoy the ride!
While some of our other products have several available colors, you can only get our motorcycle rain suits in one color, navy. This suit is available in many sizes to fit all body types. The chart below shows all our size options and style options. You can also purchase each piece individually or as a set.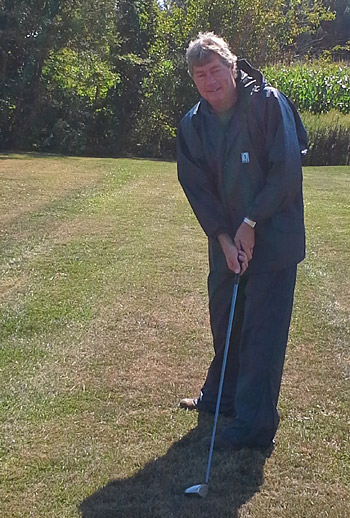 The Benefits of Our Motorcycle Rain Suits
You deserve to be comfortable and dry, no matter what you're doing outside. Our motorcycle rain suits are perfect for those morning rides when everything is dewy and fresh. However, they're great for all kinds of other activities, too! Golfing, go-karting, attending a sporting event, or even riding a bike are all activities you can enjoy in stylish comfort with our motorcycle rain suits.
Some of the benefits our customers love include the following:
Breathable, Weatherproof Fabric
Strong, Durable Material and Made to Last
Rust-Proof Zippers and Unique Weatherproof Stitching
Easy to Care for and Keep Clean
Made in the USA with High-Quality Fabrics
There's nothing like a high-quality, expertly made Kool Dri® garment keeping you safe from the elements, no matter the weather.
Why Should You Buy Our Made in the USA Motorcycle Rain Suits?
Are you exhausted by your outdoor clothing because it's cumbersome? Do you avoid wearing weatherproof clothing because you feel that it weighs you down on your bike? Our specially made weatherproof clothing is not bulky or heavy like other garments that claim the same benefits. Instead, it's feather-light and exceptionally comfortable because we designed it with outdoors people like you in mind! While our motorcycle rain suits are lined with a different material than the others we sell, you can expect the same level of comfort in all our products.
The way the fabric of the navy-colored motorcycle rain suit functions to keep water out also helps it remain strong and durable. It resists tearing, snagging, or fraying and is ideal any time of the year because of its breathability. It will keep you cool in the warmer months and warmer in the cooler months.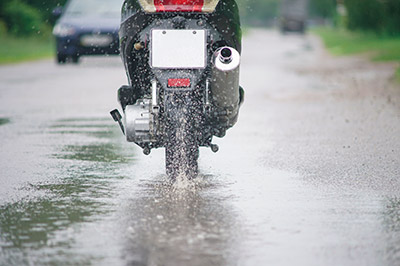 IT HELPS YOU STAY DRY
It's not unheard of to be out on the open road, enjoying a long ride, only to suddenly experience some rain. While you should stop riding as soon as possible when it's raining, those few moments while you're finding a place to wait out the storm expose you to the rain and can soak your clothing. With Kool Dri® motorcycle rain gear suits, you know you will stay dry and comfortable in those unexpected rainfalls.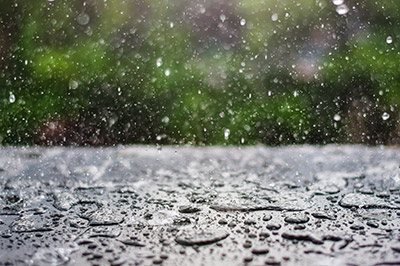 PROTECTS YOU
While you may see many people riding on motorcycles in shorts, short sleeves, and without a helmet, dressing the part is one of the most important parts of motorcycling. Wearing protective clothing is key to keeping yourself safe and without injury. Our motorcycle rain suits add that extra weatherproofing layer you need to stay dry in case of unexpected wet weather. Best of all, they can fit under motorcycle jackets!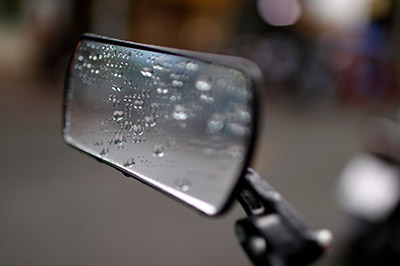 KEEPS YOU MORE ALERT
When you are worried about sudden rain soaking your clothing, you are more likely to become distracted on the road. This mindset is dangerous and may lead to accidents. Preparing yourself for any scenario that might come up on the road means preparing yourself for unexpected weather events so you can remain alert and focused on the task at hand—arriving at your destination safely.
The Kool Dri® Guarantee
When making a purchase, you deserve satisfaction and the promise that if something is unsatisfactory, it will be made right. Every Kool Dri® product has a warranty against defects in material and workmanship for five years from the date of purchase. If your Kool Dri® garment does not meet your expectations or if for any reason you are not completely satisfied with its comfort and durability, you can return it to us. Explain your issue with the product, and we will work with you to arrange an exchange or a refund.
This warranty does not apply to any Kool Dri® garment that you may have damaged through accidents or neglect. If there are any questions about our guarantee, please feel free to reach out to us!
From Our Blog
Want to learn more about how Kool Dri® motorcycle rain suits can keep you dry? Read more on our blog!