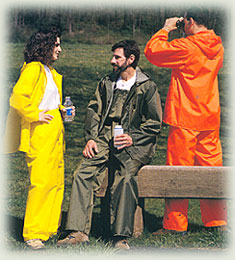 Hooded Jacket Rain Suit
Our rainsuits, complete with hooded jacket and waist-fit pants, make the perfect lightweight protection from the elements for the serious outdoor enthusiast. Engineered specifically for comfort and lightweight durability, our rainsuits make the perfect rain gear whether you're taking a long hike or embarking on a month long camping excursion.
Our Rainsuits are Great for:
Fishing trips
Camping
Hunting
Archery
Hiking and mountain climbing
Our waist-fit rainsuit includes durable waist-fit pants and lightweight hooded jacket. Both rainsuit pants and hooded jacket feature durable, breathable fabric and include spacious storage pockets.
Hooded Jacket Features:
durable outer flap
rustproof zipper
2nd flap for added seal against the elements
Durable and roomy drawstring hood - fits over hats or can be used alone
Special flap pockets keep contents secure and dry.
Three camouflage rainsuit patterns are available making this the perfect hunting rainsuit:
Olive Drab
Yellow
Fluorescent Orange
Proudly made in the U.S.A. and featuring a durable, yet feather-light fabric with breathable microscopic pores to ensure comfort in any weather. Available in sizes small - XXXL.