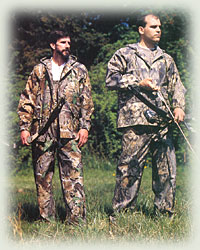 Bib Suit and Lined Jacket Combo
Our camouflage rainsuits make the perfect lightweight protection for all kinds of outdoor activities including:
Fishing trips
Camping
Hunting
Archery
Hiking and mountain climbing
The bib suit coupled with our lined jacket, makes a fantastic weatherproof rainsuit for every outdoor enthusiast. Bib overall pants provide superior protection from rain or damp weather while hunting, fishing or hiking.
Our bib rainsuit includes durable bib pants that feature tapered legs that close against the elements with the closure of a plastic zipper and a lightweight lined jacket. Both bib pants and lined jacket feature durable, breathable fabric and include spacious storage pockets.
The lined jacket features a durable outer flap, rustproof zipper and a second flap to securely seal off all openings against the elements. Lined with lightweight nylon, the rain jacket features roomy pockets for dry storage, while the elastic cuffs adjust to a perfect fit. A roomy hood adjusts to wearer preference with a durable drawstring.
Proudly made in the U.S.A. and featuring a durable, yet feather light fabric with breathable microscopic pores to ensure comfort in any weather. Available in sizes small - 3XL.